About Us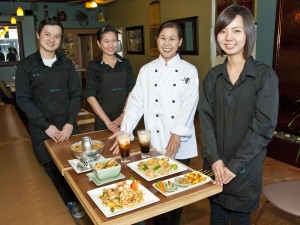 Saw Wa Dee Kah (Welcome) to Rim Talay Thai Cuisine.
Chef Ponie learned the art of Thai cooking at an early age from her mother and aunt. Showing an exceptional aptitude and flair learning her family's recipes, her parents sent her to private school where she improved her talent of the culinary nuances, health aspects and artistic presentation of this fine cuisine. Coming to the United States as a young adult, Ponie had to learn to speak English so she could study design and began working in restaurants. With over 20 years experience in the restaurant business, Chef Ponie always had the dream of having her own restaurant so she may bring the true tastes and colors of Thailand to the United States.
In March 2010, Rim Talay opened its doors to patrons looking to enjoy healthy authentic Thai cuisine in a relaxed and contemporary setting in downtown Oceanside California.
When translated to English, Rim Talay means "by the sea". Located just two short blocks from the beach and with a view of the ocean from our patio, being Rim Talay enhances the exotic Thai food experience.
Dream…Believe…Execute…Inspire…